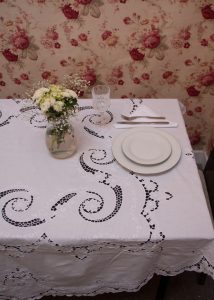 Own a piece of lace history. Certainly get this rare Richelieu Cutwork Petal Lace edge tablecloth! Most noteworthy, an exquisite White Work interpretation dated back to the 16th century.

https://www.ancient-origins.net/artifacts-other-artifacts/stitching-story-cutwork-embroidery-one-most-luxurious-goods-europe-005346
First of all, it is hard to imagine a simple buttonhole stitch can produce such beauty. As a result, here is a Linen tablecloth with Cutword flowers and petals. This particular White work Cutwork variation was named after the French cardinal. In sum, our Richelieu Cutwork Petal Lace is needle stitched by expert artisans.
Because it is All in the Details, border edge is trimmed with delicate cut work of blooming flowers and petals.
In addition, more elaborate Richelieu Cutwork decorates the centre of the tablecloth.
Finally. we select a linen/cotton blend fabric for longer lasting durability and ease of care. The cotton content of 45% provides enough stiffness to the floral details of the border edge.

Made of Premium quality 55% Linen/ 45% Cotton blend.

Hand embroidered with unique Richelieu Cutwork trim and border.

Oblong shape:  70″x90″ and 70″x104″

Oval shape:  70″x104″.

Matching Napkins:  Dinner size 18″x18″- Set of 4.

All sizes are approximate measurements with a variance of 5-10% deviance.

Dry clean.