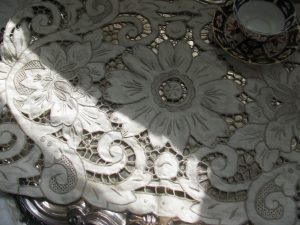 Tuesday Special:  March 26th – April 2nd
15% discount      CAN$ 49.95    White

15% discount      CAN$ 59.45    Vintage Ecru
Click on each image 2 times for closer look.
Regular price:  CAN$ 59.95  White  and   CAN$ 69.95   Vintage Ecru

Madeira embroidery is still one of the most revered and recognized expertise in the industry. Given the various influences of England, Milan and Bruges laceworks, it is believed that those have been an inspiration to the several stitches applied in the execution of Madeira Embroidery, namely the Richelieu, " Caseado" ( buttonhole stitch), " Arrendado" (lace stitch), "Ponto de Corda" (rope stitch), "Ponto Francês" (French stich), " Granito" or " Garanito", etc.
It is All in the Details, our Daffodils in Bloom offers more: Pulled Thread openwork, Running stitches, Satin stitches and much more. The stitching is exquisite, so even, so perfect. All hand made with the magic of a needle! And at a very affordable price! Very limited quantity, available in White colour or Vintage Ecru colour.
100% Pure Linen fabric.

Warm White colour or Vintage Ecru colour..

Hand stitched and hand embroidered.

Oblong sizes :  16″ x 24″

Measurements are approximate with a variance of 5-10% deviance.

Precise measurements can be available upon request.

Dry clean.
Approximate prices in other currencies:  US$ 48.17 / UK pound sterling 35.19 / Euro 38.98  for White    (Jan. 2016)