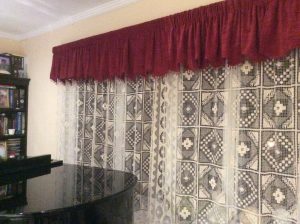 Tuscany Filet Lace (also known as Modano) is believed to be the oldest form of embroidery, originated from the net-making techniques of fishing communities. Defined by the Square-meshed knotted designs, this needlework style was popular among 16th century aristocracy, and currently making a revival since the 1980s.
Each square measures approximately 3-eighth of one inch and each corner is meticulously hand knotted by deft fingers, the sign of expert craftsmanship!
We design this beautifully hand knotted tablecloth in alternate squares. The intent is to multi function as a window panel. Only the best will suffice at The Lace And Linens Co. The finished product is expertly done on a 6-footer netting frame by skilled artisans. Limited quantities. Available in some ecru sizes and 10 white sizes on 100% Cotton rich fibre.
Sizes ready to hang for window covering, a "no sew" approach:
Square : 36×36″ (ecru+white)  54×54″ (white)  Sold out!

Oblong : 54×72″ (ecru+white)  60×80″ (ecru+white)  70×90″ (white)  70×108″ (ecru+white)
Made of premium quality pure cotton.

Vintage ecru colours.  (some ecru sizes sold out)

Oblong sizes :   50″ x 70″ / 60″ x 80″ / 70″ x 104″

Limited quantities!

Measurements are approximate with a variance of 5-10% deviance.

NO dryer.