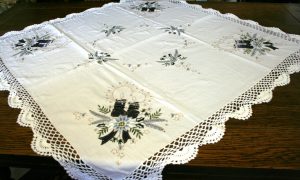 For the classic Blue and White decorating theme, MoonLight Christmas is beautifully embroidered in Victorian deep Blues and Gold Thread. To further enhance a touch of elegance, we choose a soft fabric with speckles for an interesting variation. Easy care Viscose & Polyester blend. White or Ecru. It is All in the Details, hand crocheted full lace edge is the final finishing detail which will be treasured as an heirloom collection.
Table topper is an effortless show piece to inspire festive season and greetings. 36″x36″square can decorate any furniture surface such as dining room table, kitchen table, nesting table, buffet table, side table, coffee table, dressing table, etc. Available in a warm Ecru colour or White colour. Limited quantities.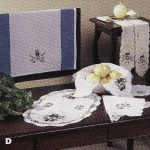 We select Viscose to blend with Polyester for easy care. Viscose is the oldest man-made fibre with a luxurious & silk like aesthetic. The Viscose content can provide a superb drape on any surface.
Made of warm Ecru or White Viscose & polyester blend.

Embroidered accents details in deep Victorian Blue & Gold.

Square sizes: 36×36″.

Choose Ecru or White.

Measurements are approximate with a variance of 5-10% deviance.

Dry clean.

Limited quantities.