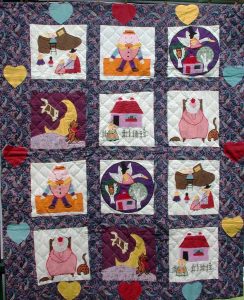 We all know and love Mother Goose nursery rhymes since we were young. This whimsical quilt features wonderful classics such as Humpty Dumpty, Hey Diddle Diddle/the Cat and the Fiddle, Pussy-Cat Pussy-Cat Where have your been, Old Woman who Lived in a Shoe, and Mary Mary, Quite Contrary. A delightful and cuddly quilt you can give to your children, and possibly a heirloom to pass down for generations (like the Mother Goose rhymes!)    On sale now for a limited time!
Close up of each Nursery Rhymes.
100% Cotton.

Polyester filling.

45″ x 55″

Each square : 9.5″ x 9.5″. Total 12 squares.

Size is approximate with a variance of 5-10% deviance.

Colour fast fabric.

NO dryer.

Limited Quantities.
Approximate prices for other currencies:   US$ 111.83, UK pound sterling 78.60 , Euro 102.43, Japanese Yen 14028   (Jan. 2016).,