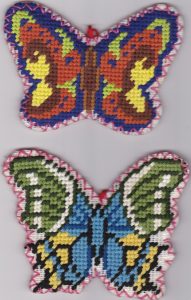 "Needlepoint" refers to a particular set of stitching techniques worked upon stiff openwork canvas. Because it is stitched on a fabric that is an open grid, needlepoint is not embellishing a fabric, as is the case with most other types of embroidery, but literally the making of a new fabric. It is for this reason that many needlepoint stitches must be of sturdier construction than other embroidery stitches.
Needlepoint is often referred to as "tapestry" in the United Kingdom and sometimes as "canvaswork". However, needlepoint—which is stitched on canvas mesh—differs from true tapestry—which is woven on a vertical loom. When worked on fine weave canvas in tent stitch, it is also known as "petitpoint"
We offer a unique Tea or drink Coaster in 100% Woolen hand stitched Needlepoint. Available in Gros Point in the shapes of Butterfly designs. It is All in the Details, the coaster is well finished with   double herringbone stitched border. Coasters are made from plastic canvas. An added bonus of a red embedded ribbon for dual purpose as a hanging ornament.

100% Wool thread Gros Point stitching.

Tea Coasters in Butterfly shapes.

2 colourful designs to choose from.

Plastic canvas.

Red ribbon for hanging ornament.

Very limited quantities for both designs.

NO Dryer.