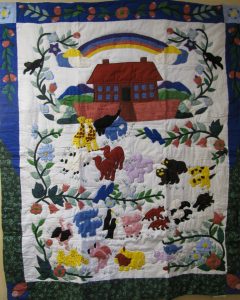 Noah's Ark is a popular Sunday bible school story. This hand quilted throw is a cheerful depiction of Genesis, making it an ideal quilt for children. Pairs of animals were appliqued and hand stitched with contour quilting while entering the Ark. Bright colours liven the quilt.     On sale now for a limited time!
A window valance to match the throw…
100% Cotton.

Polyester filled.

Sizes: Quilt/Wall hanging  50″x60″.

Valance :  60″(w) x 15′ (d)

Limited quantities.

All sizes are approximate measurements with a variation of 5-10% deviance.

NO dryer.
Approximate prices in other currencies:  US$ 125.70 / UK pound sterling 88.10 / Euro 115.48./ Japanese Yen 15559     (Jan. 2016)