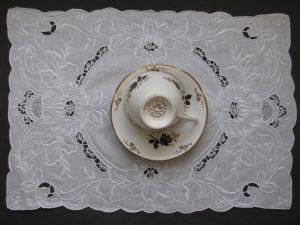 Venetian Embroidery:is an embroidered imitation of Venetian Lace, often made with fancy stitches
Outlines are worked in high relief, and are carried out in buttonhole stitch. Connecting buttonhole bars are with or without picots, and the linen grounds are generally ornamented with filling stitches, raised dots, open holes worked in buttonhole in relief, and adorned with picots.
The parts of the design that are intended to imitate light and open flowers and leaves are filled in with Wheels, Point de Bruxelles, Herringbone, Point de Grecque, and other Point Lace Stitches. Vein the heavier leaves with lines of Rope Stitch.
This hand stitched design is a wonderful symbolic blend of 2 flowers: Peony representing Royalty, Honour, Prosperity, Happiness and Lotus, Wisdom, Beauty, Purity. It is remarkable that this 16 century Venetian Richelieu White Embroidered hand stitched treasure can still be available at such an affordable price! Exquisite Lace and Linens has the magic to uplift the soul!

100% Pure Linen fabric.

Warm White colour.

Hand stitched and hand embroidered.

Oblong sizes :  10×14″ / 14″x20″

Measurements are approximate with a variance of 5-10% deviance.




Dry clean.