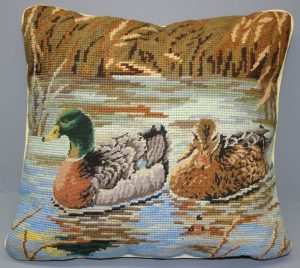 The exquisite needlepoint stitches bring out the colours of the mallard ducks and the lake, making this cushion cover an amazing work of art. A must-have for those who love tapestry art or birds!
Needlepoint in the United Kingdom is often referred to as "tapestry" or "canvaswork", that is, stitched by needlepoint on stiff open grid canvas mesh. Our needlepoint designs are hand crafted with only a basic and simple "tent stitch", and rely on colour changes in the wool yarn to construct the pattern. We have a wide range of collectibles to choose from. Most covers are 16″ square with Velveteen backing and zippered closure.
Our regular decorative needlepoint pillows have 132 stitches per square inch. Our Petit Point pillows have an incredible 576 stitches per square inch for even greater detail. Several of our pillows are a mix stitch of regular grosse point Needlepoint and Petit Point stitch. They are indeed a beautiful expression of hand artistry and timeless beauty
The pair of Mallard Ducks are expertly hand stitched in fine petit point, an incredible 16 stitches per inch, and so very true to life. It is All in the Details, the feathers of both male drake and female. Petit point best illustrates the varying shades of grey and white, even the lighting effect on the green head. Reflection on the water is another feature of artistic expression. Even the cattail and the foliage in the background receives due attention.

Approximate prices in other currencies:  US$ 59.19 / UK pound sterling 41.60 / Euro 54.21  (Jan. 2016)
Made of 100% Wool yarn.

Yarn dyed for colour fast.

Velveteen cotton backing:  Brownstone.

Zipper closure hidden mid way.

Square Size : 12″x12″

Cover only.

All measurements are approximate with a variance of 5-10% deviance.

Dry clean