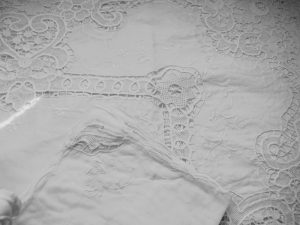 Organdy is a fine, translucent cotton fabric usually having a durable crisp finish, white. Word origin 1829, from French organdi "sorte de Mousseline ou toile de coton" (1725), of unknown origin. Barnhart suggests it is an alteration of Organzi, from medieval form of Urgench, city in Uzbekistan that was a cotton textile center.
Punto in Aria, this rare and beautiful type of needle Venice Lace is, strictly speaking, Stitches in Air. Some finest work of Venetian Lace boasts of six thousand buttonhole stitches in one square inch, an amazing accomplishment as an embroiderer.
We select this sophisticated yet durable fabric to complement the sophisticated needlework craft of Venice Lace. It is All in the Details, an astounding variety of needle embroidery stitches embellish the needle Venice Lace work, Blanket stitches, Chain stitches, Satin stitches, Wave stitches, Feather stitches, Stem stitches, Buttonhole stitches, Shadow Embroidery stitches, Filling stitches,…just to name a few. An heirloom work of art! 
Fine translucent 100% Cotton Organdy.

Needlework Venice Lace pure Cotton thread.

Pure White.

Oblong Sizes: 72″x108″ , 72″x126″, 72×144″


Napkins : 18″x18″ set of 4 : 1 corner Venice Lacework

All measurements are approximate with a variance of 5-10% deviance.

NO dryer.