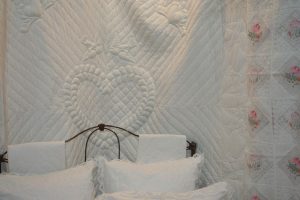 The release of White Doves and the Irish Claddagh Rings have been long-standing icons within the celebration of weddings. We combined these symbols and created this exquisite quilt to commemorate the tradition.
The hand stitched quilting is expertly done with 5 stitches to one inch. Trapunto is the Italian "puffy" style for quilts, which is suitable for weddings. The Irish Claddagh symbolic of Love and Friendship, with two clasped hands holding a crowned heart, decorating 4 corners.  The main feature of Trapunto Heart and two Wedding Doves in the centre of the quilt is the pinnacle of the bridal theme. It is All in the Details: release Doves are hand quilted along the full border edges of this Wedding Quilt.  Quilted hearts adorn the 4 cardinal corners, symbolizing the all encompassing love and loyalty to this sacred vow.
Matching Pillow Shams feature hand stitched Heart with the centre intended for Monograms or to accommodate a creative phrase. Choose to purchase with 2 Queen size pillow shams or without.  Limited quantities.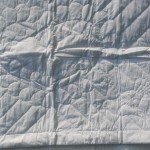 When folded, the quilt measures 16″x24″x12″ (or 48x42x26) and weighs 7 pounds (or 3.189 kg).
Made of premium quality pure Cotton.

Polyester fibre filling.

Hand quilted with Italian Trapunto Work.

Overlap closure for shams: Queen 20″x30″.

Size: Queen long :  88″(w) x 92″(l)

Available in Winter White.

Reverse to White Peony pattern cotton.

All sizes are approximate measurements with a variation of 5-10% deviance.

Dry clean,
Approximate prices in other currencies:  US$ 460.59 / UK pound sterling 323.70 / Euro 421.87 / Japanese Yen 56514     (Jan. 2017)