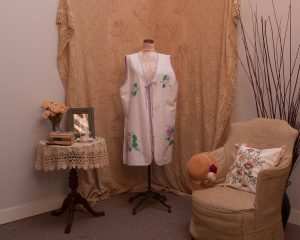 Purple Pansies Tunic Vest featuring contour embroidery
First of all, this Purple Pansies Tunic Vest can easily elevate the everyday look! Simple elegance features  embroidered pansies in a sweet bouquet. Purple and emerald green colours catches eyes wherever you go. And natural fibre cotton ensures you stay comfortable all day.
VERSATILE AND STYLISH VESTS FOR WOMEN
A vest can define your overall look. Long flowy tunic vests are the epitome of elegance. Add an extra touch of style with embroidery and applique details. Give your outfit a stylish addition with the latest vests for women.
More about our Purple Pansies Tunic Vest

Our easy-to-wear tunic vest will quickly become your 'go-to' piece! Pair it with our elegant Tuscan Rose Lace skirt to create the perfect twin set.
What does "simple elegance" entail?
https://www.yourdictionary.com/elegant
This design exclusively made for you, a robust figure



Zena Jane Lace Wear is unique. I know what you are thinking. So beautiful and so feminine! Definitely out of this world, An amazing collection of the vintage best efforts.

Since we believe that this material is best created for larger size clothing. For the reason of simple design and simple colours. In addition, breathable cotton material will not "cling" like synthetics.
Furthermore, as the dictionary describes so perfectly:
"The definition of elegant is someone or something luxurious in a restrained manner or something that is very well-thought through yet simple".
Finally, to pair "Simplicity" and "Elegance" requires "very well thought through" process!
Therefore: Buy it now while available! Limited quantity!
Sleeveless tunic vest topper with purple tie front.

Purple piping to secure and subtly define vest.


Contour embroidered pansies, leaves and bouquet ribbon; Subtle yet visible    

Generous arm hole opening for easy fit.

            .

Natural fibre pure cotton for comfort

Colour fast.


Machine wash cold, hang to dry

Made in Canada

Zena Jane Lace Wear collection

Item #ZJ007B57Purple Pansies tunic vest.

2-4 weeks delivery.