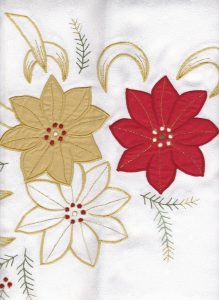 Classic and elegant, Gold & Red Poinsettias appliqué on ivory Embossed fabric is very economically priced. Easy care polyester. Limited quantities available.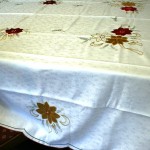 If you want more similar products, we have Red Poinsetta or Gold Poinsetta Bread Basket covers to complete the set.
Made of creamy ivory polyester.

Applique classic Gold & Red Poinsettias on embossed fabric.

Oblong sizes:  54″x72″, 72″x90″, 72″x108″.

Matching Flip Bun Warmers or Toast Covers available.

Measurements are approximate with a variance of 5-10% deviance.

No Dryer.