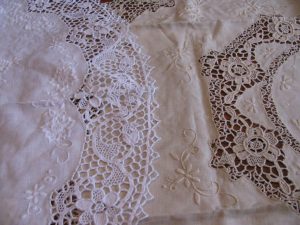 In historical terms Lace was created using two tools: the needle and the bobbin. Both techniques were time-consuming and required great skill. As a consequence, lace was extremely expensive. Needle lace, which had its origins in cut-work, is an embroidery technique in which a small square of cloth was cut away and the resulting hole filled with a structure created with needle fillings, or buttonhole stitches, became a popular technique for creating insertions. These insertions, constructed in between the grid left after square sections of the base cloth were cut away, had designs with snowflake delicacy and were referred to as reticella or rosette (also reticello or in French point coupé or point couppe). The Lace And Linens Co. is proud to bring you the best of Reticella Lace in this exquisite table topper. Made of 100% pure natural fibre Linen.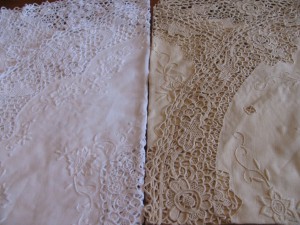 It is All in the Details, note that the White version differs from the Ecru version in design and placement of the reticella lace. 
White version
Ecru version
100% Pure Linen fabric.

Warm White or Vintage Ecru colour.

Hand made Reticella lace with a needle.

Hand stitched and hand embroidered accents.

Round size :  36″

Measurements are approximate with a variance of 5-10% or more deviance.

Precise measurements can be available upon request.

NO

Dryer.
Approximate prices in other currencies:  US$ 156.72  / UK pound sterling 113.60 / Euro 132.43  (AUG. 2021)