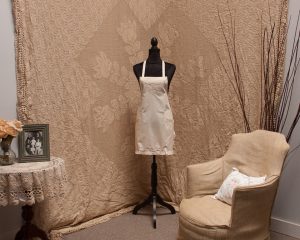 Check out our latest new -old Retro Apron 1950 Style!
Will you look at this Retro embroidered apron! Have fun dressing up in the 1950 style. Adorable with ruffle trimming. Especially cute ruffled tie-back! Embroidery with cut out work gives this apron a sophisticated look. Not just any retro apron. Serve your guests with style. Plan a retro menu! Enjoy being home!

https://www.google.com/search?rlz=1C1CHBF_enCA884CA884&source=univ&tbm=isch&q=retro+housewife+cooking&sa=X&ved=2ahUKEwjXx5rCs97pAhWDVt8KHRtdBN8QsAR6BAgKEAE&biw=1174&bih=536
Let us celebrate our past. Enjoy the wonderful smell and taste of home cooking! And…notice how every housewife image always wears an apron; At The Lace And Linens Co.com, we have lots of style to offer. Please browse our extensive catalogue to suit your taste. Be sure to add this Retro Apron 1950 Style to the collection!
On the other hand, Close up views will illustrate sophisticated embroidery and cut-out work details.
Size : full length: 70×74 cm.

2 pockets: Embroidery on pockets.

Fully ruffled trim.

All sizes are approximate measurements with a variance of 5-10% deviance.

No Dryer.