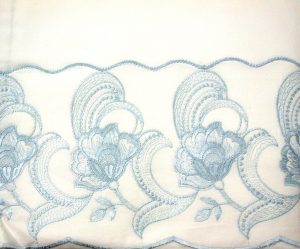 "Royal Garden" embroidered lace trimmed bed sheet of quality cotton and workmanship. Limited quantities available in Twin- Double- Queen-King sizes. 2 colours : Rose or Pearl Blue colour embroidery thread. Pillow case can be purchased separately.
Around 1873, Issac Groebli of Switzerland invented the first practical Schiffli Embroidery machine. This machine was based on the principals introduced by the newly invented sewing machine. Groebli's machine utilized the combination of a continuously threaded needle and shuttle containing a bobbin of thread. The shuttle itself looked similar to the hull of a sailboat. His machine came to be known as a schiffli machine. "Schiffli" in the Swiss dialect of the German language , means "little boat".
100% premium quality cotton.

Embroidered Lace border trim.

Rose or Pearl Blue colour.

Size :  Queen :  20″x30″.

Measurements are approximate with a variance of 5-10% deviance.

Machine wash. NO dryer.