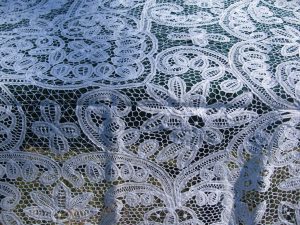 This Classic Allover Solid Battenburg Lace uses a lighter cotton tape lace which offers a refined classic effect. The lace crosses itself, is gathered to fit around curves, folded at corners & sharp turns to follow the pattern. The spaces are then meticulously filled with a variety of needle lace stitches, mostly variations of the Buttonhole stitch.
The Battenburg Lace style originated in the 16th century, named after Queen Victoria's son in law, the Duke of Battenburg. It rose to popularity during the early 20th century (particularly in  the U.S. and Japan), beloved by its vintage and remarkable design.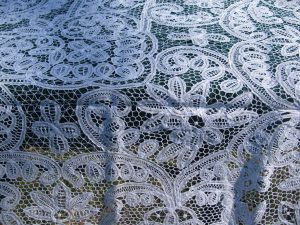 Such a beautiful tablecloth can bring elegance and ambivalence. Distinctive by its unique floral and geometric patterns. Suitable for dining tables…or can be used as an interesting window covering or albs with some sewing experience and a little creativity.
We offer this exquisitely made tablecloth in a variety of sizes. Available in Creamy Ecru or Crisp White colours.
Tablecloth sizes
Square : 50×50″ (white+Ecru)
Oblong : 50×70″ (ecru+white)  70×90″ (ecru+white)
Round :  50″ (ecru+white)  70″ (white)
Made of premium quality pure cotton.

Choose Crisp white colour or Creamy Ivory Ecru colour.

Square size :  50″x50″.

Measurements are approximate with a variance of 5-10% deviance.

Precise measurements can be available upon request.

Dry clean

.