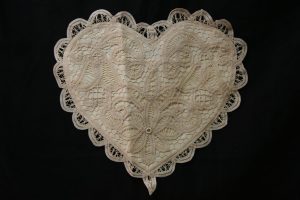 Battenburg Lace was developed in the late 1800s and named after Queen Victoria's son-in-law, The lace gained popularity due to a distinctive method of combining machine-woven tapes with hand stitching.
We design this beautiful cushion cover with tape shapes resembling leaves, flowers and geometric figures. Intricate stitches are hand crafted to hold the tapes together using mesh, netting or webs. In the centre of each cushion cover, there is a flower, decorated by an embroidered lace rings as its centre.
Heart shape is perfectly designed and trimmed with battenburg lace all around the cushion cover. It is All in the Details, even the filling stitches in the lace trim is expertly crafted. A closeup is provided for viewing these intricate details.
Available in 2 sizes of Heart shapes, 12″ or 14″.
3 different colour shades to choose from: size-12″ Vintage Ecru or White,  size 14″-Ivory cream or White.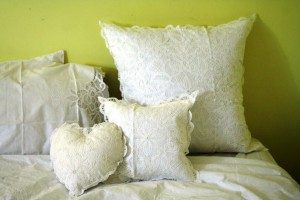 At Lace And Linens, we always choose premium quality of natural fibre fabric. These cushion covers are double lined and made of pure Cotton. Envelope closure. Covers only. Limited quantity.
Made of premium quality pure Cotton.

Hand crafted with lace trim.

Heart Shape: 12″ or 14″.

Covers only.

All sizes are approximate measurements with a variation of 5-10% deviance.

No dryer.