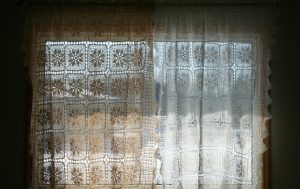 Elegant and romantic window panel drapes…
Crocheting was considered easy and less time consuming, hence more accessible as pastime hobby. The word is derived from the French word "crochet", meaning hook.
Sunflower Crochet pattern is ideal for cottage style of decorating. All products purchased from The Lace And Linens Co, can always be a creative DIY idea for multiple usage. Here, a tablecloth becomes a lace curtain panel.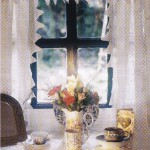 Close-up version to showcase an authentic hand made crochet lace in a Sunflower pattern. And how one end of the border edge can be folded over as a lace valance without sewing. The larger "holes" can easily serve as a substitute "grommet" to thread a thin curtain rod.
Made of pure mercerized cotton thread.

Choose Vintage Ecru or Fresh White cotton.

Hand crocheted lace panels.

Sewn-on Rod Pocket : White for white panel, Ecru for ecru panel.

Oblong:  50″(w) x 70″(L)


Measurements are approximate with a variance of 5-10% deviance

NO Dryer.