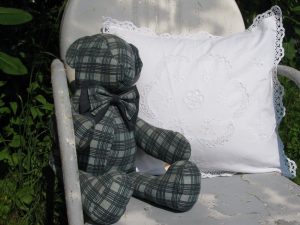 Tatting Lace is an old craft popular during Victorian times. The incredible complexity of designs that result from tatting projects are elegant, dainty and useful.
Ring-a-ring-o-rosy…what a delightful throw pillow we have for you! The heartwarming designs made with the delicate handicraft of tatting lace, we created a cushion cover that is both whimsical and elegant.
Tatting Lace inserts are hand stitched in the centre of the pillow. "Ring a Ring o' Roses" by expert embroiderers adorns both inside and outside the Tatting Lace "Ring". Swiss dot embroidery are accents. It is All in the Details The Tatted lace "Rings" are fashioned in the designs of Hearts to mirror the finest hand stitched "Roses", each petal in the design of 4 Hearts.
The Tatting Lace edge of the pillow is a flower petal design to mimic the Hearts. Note that picots lined each petal "inside" the lace edge, an extra extra touch. A close up image provides these subtle details.
Made of premium quality pure Cotton.

Hand crafted with lace trim and satin stitched embroidered accent.

Square Shape: 16″x16″.

Pure white colour.

Tatting Lace trim :hand tatted 7/8 inch width.

Covers only.

All sizes are approximate measurements with a variance of 5-10% deviance.

No dryer.