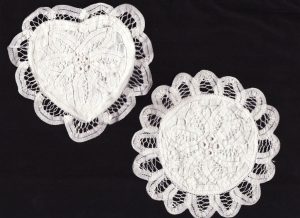 The Tooth Fairy is here to deliver a wonderful keepsake! This cute little pouch will hold your child's fallen teeth, so you can cherish precious memories from their youth. Also, you can use it as a lavender sachet.
Handmade allover Battenburg Lace in Heart shape or Round shape, easily tucked under the pillow. The Battenburg Lace is fashioned in a flower with 7 petals, for  7 days of the week.
It's All in the Details the centre of each flower is 4 Lace Rings, well crafted by experts.
Add a label of the Tooth Fairy for a nominal fee of 49 cents.

Made of pure cotton premium quality natural fibre.

Winter White.

Hand made Battenburg Lace with Lace Ring.

Size :  4″

Shape :  Heart or Round.

All sizes are approximate measurements with a variation of 5-10% deviance.

Label purchase separately.

Hand wash. NO Dryer.