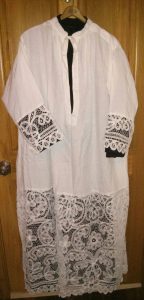 An unusual manifestation of our exquisite Solid Battenburg Lace with Buttonhole Filling Stitch.  It has been refashioned to serve a higher purpose. The alb (from the Latin Albus, meaning white) is a ceremonial vestment by the clergy for the Eucharistic liturgy. Traditions mandate that natural fibre is the fabric of choice. Our premium quality 100% cotton meets the requirement and high standard of the order.
This Allover Solid Battenburg Lace uses a lighter cotton tape lace which offers a refined classic effect. The lace crosses itself, is gathered to fit around curves, folded at corners & sharp turns to follow the pattern. The spaces are then meticulously filled with a variety of needle lace stitches, mostly variations of the Buttonhole stitch.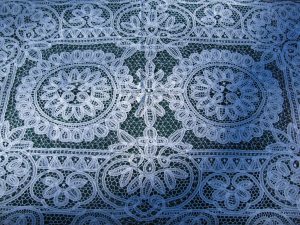 We offer this exquisitely made tablecloth in a variety of sizes. Available in Vintage Ecru or Crisp White colours.
Tablecloth sizes
Square : 50×50″ (white+Ecru)
Oblong : 50×70″ (ecru+white)  70×90″ (ecru+white)
Round :  50″ (ecru+white)  70″ (white)
Made of premium quality pure cotton.

Crisp white colour.or Ecru colour.

Oblong size :  50″x70″ or 70″x90″.   

Very limited supply.




Measurements are approximate with a variance of 5-10% deviance.

Precise measurements can be available upon request.

Dry clean.