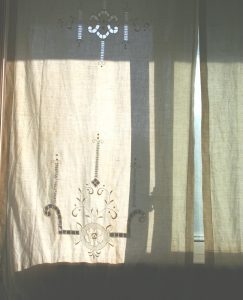 White Linen Renaissance Hemstitch Panel Tuscan Style Window Curtain
Do not underestimate this apparent simple stitching of Italian Renaissance hemstitch embroidery. In fact, the more simple, the more expertise required. This Linen Renaissance hemstitch panel Tuscan style window  curtain is absolutely perfect!
https://fleurtyherald.wordpress.com/2016/06/28/punto-antico-drawn-threadwork/
Elegant Linen Hand Hemstitch Embroidered French Door Panel or Window Panel. A Tuscan look.
According to Renate Hering-Sheppard  "Tuscan style window coverings are an all-white affair." – See more at:
http://www.dreamhomedecorating.com/tuscan-window-treatments.html#sthash.XOgIMsSn.dpuf...
To begin with, Renaissance Cut Work flower motifs are embroidered in an artful graphic design. Furthermore, border edges are folded & hand hemstitched. Also, all corners are mitred.
Because it is All in the Details. Therefore, the finest attention-to-details is an embroidered border for the extra deep rod pocket(s), available at both ends of the panel. Most importantly, the two ended rod pockets allows for flexibility & creative arrangement of hanging the panels as shown below.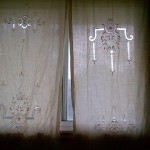 In order to illustrate the fine handiwork, here is a close-up view. As well, long & short satin stitched florets  embroidered throughout to add interesting visual effects Finally, our attention to details ensure that these florets, even as accents, are meticulously embroidered on the reverse side as well, in the same embroidered stitching & direction, except in reversed.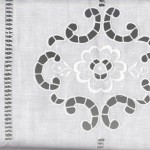 There are 3 designs to choose from.
Design #1   Art. #6491
Design #2   Art. #6492

Design #3   Art. #6493
We select a Linen/Cotton blend material to ensure that the artisan's fine work can be enjoyed daily with easier care Cotton, and Linen flax for longer lasting durability.
In conclusion, do not miss this exquisite and graceful treatment to your window. Ultimately, first come first serve!
55% Linen/ 45% Cotton blend.

Warm white.

size :  25″(w) x 50″(l)

Extra deep rod pocket at both ends as header & footer.

Measurements are approximate with a variance of 5-10% deviance.

Precise dimensions can be available upon request.

NO dryer.

Limited stock available.