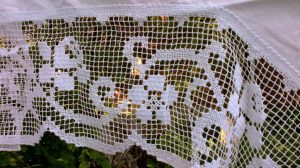 Tuscany lace is a form of decorative netting and perhaps to have originated in Tuscan, Italy, from the net making techniques that a fishing community would require.
It is All in the Details, a close up clearly demonstrates the meticulous hand crafted workmanship. Note that each square, although measuring merely one-eighth of an inch, is hand knotted in every single one of the 4 corners. And there are numerous squares in a valance or a café curtain tier. How delightful to be surrounded by such elegance and grace!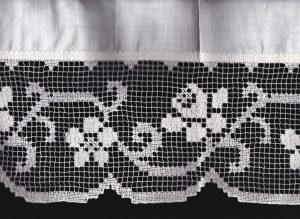 Hand knotted Tuscany Lace -classic Rose pattern -in natural fibre white pure cotton panels. The design of lace roses edging allows for panel to be sold individually.

Our Tuscany Lace Café panels in a beautifully hand crafted rose design. Give your home an Italian flair!
Crisp White colour.

Made of pure Cotton.

Size:  30″(W) x 24″(H)

Size:  30″(W) x 36″(H)


Rod pocket size: 1″ & 1.5.

Measurements are approximate with a variance of 5-10% deviance

Sold individually per panel.

NO dryer.