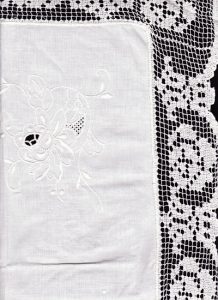 Tuscany lace is a form of decorative netting and perhaps to have originated in Tuscany from the net-making techniques that a fishing community would require.
Other designer's touch and decor idea.  A heart shaped pillow cover serves as a doily atop a cedar chest. A budget wise tip for easy decorating adds romance and elegance to an ordinary piece of furniture.  The matching tuscany lace table topper on the night stand beside the bed provides a finishing touch to complete the decoration.
Made of premium quality pure Cotton.

Hand crafted with lace trim and satin stitched embroidered accent.

Rectangular shape : 12″x16




Tuscany Lace trim :hand knotted Modano style 4″ wide in roses motif.

Covers only.

All measurements are approximate with a variance of 5-10% deviance.

Precise dimensions can be available upon request.

No dryer.