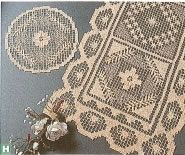 Tuscany Filet Lace ( also known as Modano) is believed to be the oldest form of embroidery, originated from the net-making techniques of fishing communities. Defined by the Square-meshed knotted designs, this needlework style was popular among 16th century aristocracy, and currently making a revival since the 1980s.
Each square measures approximately one-eighth of one inch and each corner is meticulously hand knotted by deft fingers, the sign of expert craftsmanship!
Beautifully hand made by skilled artisans- Cotton fibre in doily and runner, 5 ecru sizes and 8 white sizes. Hand knotting details adorn a simple doily with 3D -dimensional appearance…at such affordable prices.

A Tuscany Lace runner can set the tone for intimacy and elegance at a hallway nesting table.

Close up view provides All in the Details!

Made of premium quality pure cotton.

Crisp & white colour.

Tray cloth size :  12″ x 18″

Width of runners :  15″ – 16″

Length of runner sizes :  35″, 44″, 52″

Measurements are approximate with a variance of 5-10% deviance.

NO dryer.