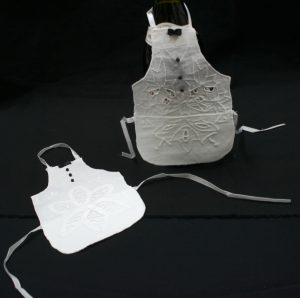 A delightful way to spruce up your wine bottles! Dress up your wine bottles with these wedding style bottle bib covers. There is a Tuxedo version for the groom and a Battenburg Lace version for the bride.
For the Groom version, each cover is embroidered with Cutwork grapes and then assembled to fit your bottle. For the Bride version, we choose romantic and feminine Battenburg Lace.
It is All in the Details, we design a front pocket as an extra finishing touch. For place card of table number, or the cork stopper from the bottle.
100% Cotton

White colour.

Ribbon tie-backs.

3 Black buttons and small bow-tie in black.

Cutwork Embroidered or Battenburg Lace decorated.

Size :  4″ x 6″.

Measurements are approximate with a variance of 5-10% deviance.

NO dryer.