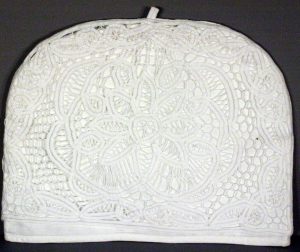 Battenburg Lace originated during Queen Victoria's reign, named after her son in law, the Duke of Battenberg. Every English Duke had his own lace pattern. Our Battenburg Lace is a fairly sturdy construction, much favoured for tablecloths and wedding dresses. It uses woven tapes and elaborate stitching together to form some of the lovely designs.
We create this unique tea cozy for an elegant afternoon tea. A tribute to Queen Victoria's son-in-law, our tea cozy is beautifully hand crafted with lace brides, lace bars and lace wheels.
Our All over Battenburg Lace is front and back, an exceptional delightful feature for both hostess and guests to enjoy,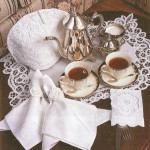 It is All in the details the all lace outer layer (large size only) is removable from the cotton lightly batted inner layer. This attention to details provides easier laundering and longer lasting lace work.
Made of premium quality pure and white Cotton.

All over Battenburg Lace decorated with lace brides, bars and wheels, front and back lace work.


Cotton lace and cotton lining, light polyester batting.

Sizes : 5″(h) x 12″(w) or  12″(h) x 16″(w)   Large size sold out!


Available in Winter White.

Covers only.

Limited quantities.

Measurements are approximate with a variance of 5-10% deviance.

NO dryer,