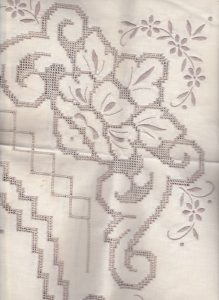 A rare treasure to behold! The elegant embroidery is expertly needle-weaved with Pulled Thread work, showcasing the value of fine craftsmanship. Antique Grey colour is selected for the Cotton pearl thread in order to heighten the subtlety of the stitching.
The elegant tablecloth applies a regal quality to any dining setting. An interesting symbiosis of floral imagery and geometric lines.
Napkins are also available. Simple yet elegant.
Made of 100% pure premium quality Cotton.

Vintage Grey cotton pearl thread for longer lasting stitches.

Square size:  52″ x 52″

Matching Napkins :  12″x12″ set of 4

Measurements are approximate with a variance of 5-10% deviance.

Natural Air dry.