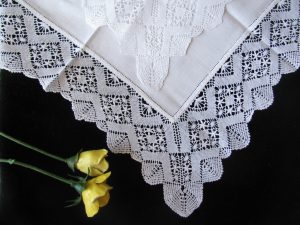 Handkerchiefs have been a significant tradition for weddings throughout the ages, so why not start your own? For the ultimate choice of romance and bridal elegance, we offer unique and beautifully crafted handkerchiefs. For simpler designs (and more insight on how wedding handkerchiefs can be used), see the DIY Handkerchief Baby Bonnet section.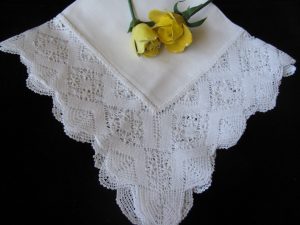 Lace Lady working a Bobbin Lace Handkerchief in the traditional manner.
Vintage Bobbin Lace Linen Handkerchief
Wedding Handkerchief-Bobbin Lace (as pictured above) with Hemstitched border edge on traditional linen fabric, and traditional larger 15″x15″ size. The ultimate keepsake for the Bride's last tears. Vintage Bobbin Lace is composed of many different lace stitches by expert lace makers: rosettes of slender leaves, chevron of cloth stitch, diamonds of cloth stitch, and curves of whole stitch, and edge of braided loop.
Made of Linen fabric.

Hand folded & stitched border edge.

Hand made Bobbin Lace edge 3″ width.

Square : 17″x17″.

Sizes are approximate with a variance of 5-10% deviance.

Very Limited quantities.

Hand wash. Natural Air dry.