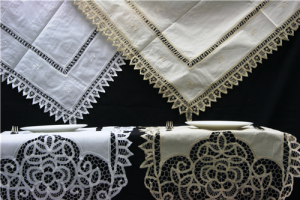 A unique design of simple elegance! Trimmed with hand crafted Battenburg Lace with alternating lace bars and lace wheels in each and every other one of the lace work all along the four edges. It is All in the Details, the edges are perfectly straight and even, with the 4 corners slightly pronounced. A second "lace" of hemstitching is added to create visual effect without monotony. Florets in satin stitched embroidery creates a fine finishing touch. High Tea is a fun loving yet formal event for sometimes very diverse groups. The uncomplicated classic design of this tea cloth can be a unique custom memorandum to commemorate and to connect: Add monograms, Well Wishing or Signatures with permanent fabric pen.
Pure 100% Cotton.

Choose Snow White or Vintage Ecru colour.

Full hand crafted Battenburg Lace edge.

Square size :  34″x34″.

All measurements are approximate with a variance of 5-10% deviance.

NO Dryer.