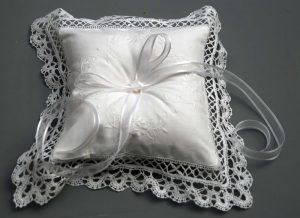 Cluny lace is a bobbin lace style, worked as a continuous piece. It is a heavy plaited lace of geometric design, often with radiating thin, pointed wheatears (closely woven leaves), originated in France.
Make your wedding even more special by using this beautiful Hand made Cluny Lace Cotton Cushion Cover as Ring Bearer Pillows! You and your betrothed deserve this one-time memorable moment, so you might as well present the wedding rings in style!
The lace is hand made bobbin style with fine mercerized cotton thread. The corners are specially designed in a seamless and continuous workmanship by experts. It is All in the Details, hand stitched embroidered flower accents embellish and add interest in the finishing touch. 2 sizes to choose from:
A Gold Sparkle window Box with Gold Ribbon can be purchased separately to facilitate shipping and carrying. Box may differ at time of purchase, depending on availability.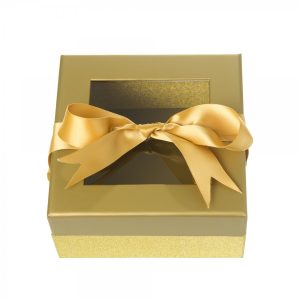 Pure 100% premium quality Cotton

Pristine White colour.

Handmade Bobbin Style Cluny Lace continuous piece.

Hand embroidered flower accents.

Square sizes :  inside dimension :  8″ x 8″,   11,5″ x 11.5″

Cluny Lace trim :  2″ – 2.5″ corners.

White ribbons ring tie streamers for securing rings.

Custom monogram available upon request.

NO Dryer.