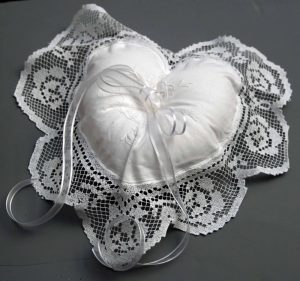 r
Make your wedding even more special by using this beautiful Hand stitched Appenzell Embroidery White 100% Cotton as Ring Bearer Pillows! You and your betrothed deserve this one-time memorable moment, so you might as well present the wedding rings in style!
Modano Tuscan Lace Heart shaped Wedding Ring Bearer Pillow with detailed hand embroidered  Chrysanthemums.
Tuscany lace is believed to be the oldest form of embroidery, which originated from the net-making techniques of fishing communities in Tuscany, Italy. Defined by the square-meshed knotted designs, this needlework style was popular among 16th century aristocracy.
Chrysanthemums have been the symbols of perfection and happiness…qualities that this wedding ring bearer represent! The Tuscany Lace is hand crafted featuring chrysanthemums to mirror the expert embroidery in the centre.
It is All in the Details, close-up image illustrates the many hand embroidered techniques and stitches, such as: Long and Short Satin Stitches, Slanted Chain Stitches, Stem Stitches, Pulled Thread embroidery, and lace bars to add interesting accents to the Chrysanthemums.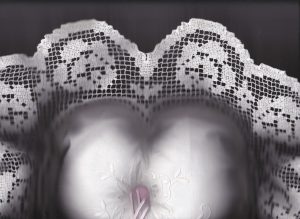 Close examination will illustrate the meticulous expertise in hand knot in each one of the four corners of the square mesh. And each square measures a mere one-eighth of an inch…counting numerous squares! Imagine the creative endeavour of the craft!
A Gold Sparkle window Box with Gold Ribbon can be purchased separately to facilitate shipping and carrying. Box may differ at time of purchase, depending on availability.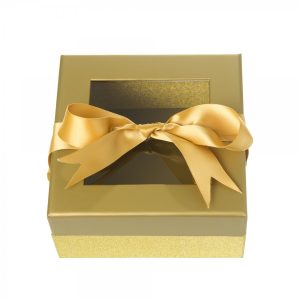 Natural Fibre 100% Cotton Rich.

Full Tuscany Lace edge or trim featuring Chrysanthemums: 3.5″ width,

Satin stitch & drawn thread embroidery as accents.

Pristine White colour.

Heart shape: 9″, 12″.

White ribbons ring tie streamers for securing rings.

Custom monogram available upon request.

Measurements are approximate with a variance of 5-10% deviance.

NO dryer.