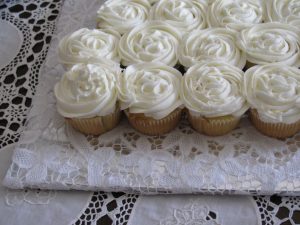 Behold! Wedding Ring WhiteWork Rose embroidery Tablecloth is a rare find! And yet can be an awesome display for your wedding cake! Certainly, this tablecloth is simply too exquisite! Therefore, we think the namesake should emphasize White Work embroidered White Roses! Most noteworthy a very subtle elegance!

First of all, unique and exquisitely hand stitched. This Vintage style tablecloth is perfect for any bridal shower or wedding events. Similarly, "The love for the two suitors" is symbolized by the beautiful embroidery of the rose. Above all, crochet lace encircling the White Work Roses is superb in design.
http://woodville4.tripod.com/meaning.htm
Furthermore. crocheted lace flowers in groups of 4 intersperse around the wedding rings of roses.  The effect is extraordinary in connecting the wedding rings design in a  beautiful manner. This wedding ring design requires higher needlecraft skill than simple crochet.  The tablecloth is pure white and is made of premium quality cotton. It is All in the Details,  each of the wedding ring is meticulously hemmed with blind stitches. Finally, Wedding Ring WhiteWork Rose embroidery Tablecloth is an awesome "must have" display for your wedding cake!

Made of premium quality pure Cotton.

Hand crocheted lace flowers cotton thread.

Wedding Rings with whitework and cutwork details.

Size: 70″ x 104″ oblong.

Available in Winter White..

Measurements are approximate with a variance of 5-10% deviance.

NO dryer.