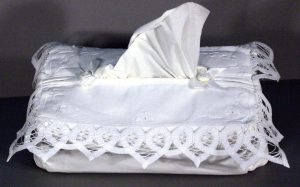 Exquisite white cotton Battenburg Lace fashioned skillfully in a heart-shaped trim for this tissue box cover.Simple and Elegant, uniquely different! The beautifully handmade Battenburg Lace will bring elegance to any powder room or guest room. Slightly padded, the white 100% Cotton underlining wraps around to cover a standard or large rectangular tissue box. The closure is velcro overlapping at the underside.

The Battenburg Lace is expertly crafted and complete with details of lace brides and lace bars. The Heart-shaped lace is unique and expertly crafted into a trim along the full edge of the tissue box cover.This distinct and elegant lace trim adorns our entire product line of bath accessories.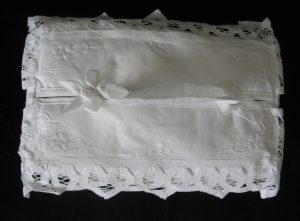 It is All in the Details, a hand embroidered flower with 5 Heart-shaped flower decorating each one of the 4 corners. a fine finishing touch.

Made of 100% pure cotton.

Choose snow White or warm Ecru colour.

Size:  12″x12.75″

Tissue box size: Standard or large: 5.5″(w) x 10″(l) x 4.75″(h).

Measurements are approximate with a variance of 5-10% deviance.

NO dryer.