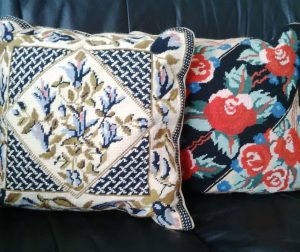 Needlepoint in the United Kingdom is often referred to as "tapestry" or "canvaswork", that is, stitched by needlepoint on stiff open grid canvas mesh. Our needlepoint designs are hand crafted with only a basic and simple "tent stitch", and rely on colour changes in the wool yarn to construct the pattern.
Our regular decorative needlepoint pillows have 132 stitches per square inch. Our Petit Point pillows have an incredible 576 stitches per square inch for even greater detail. Several of our pillows are a mix stitch of regular grosse point Needlepoint and Petit Point stitch. They are indeed a beautiful expression of hand artistry and timeless beauty.
This pillow will suit a contemporary and modern home with traditional hand work. In colour psychology Black gives protection from external emotional stress. It creates a barrier between itself and the outside world, providing comfort while protecting its emotions and feelings, and as an impression of elegance, sophistication.
Black and Red Contemporary:
A stunning combination of Red Roses against a Black background that forms into a striking design, without sacrificing the aesthetic of traditional workmanship. A beautiful rendition!
Made of 100% Wool yarn.

Yarn dyed for colour fast.

Velveteen cotton backing: Brownstone.

Zipper closure hidden mid way.

Square Size : 16″x16.

All measurements are approximate with a variance of 5-10% deviance.

Dry clean.
Approximate prices in other currencies:  US$ 46.03 / UK pound sterling 32.35 / Euro 42.16 (Jan. 2016)