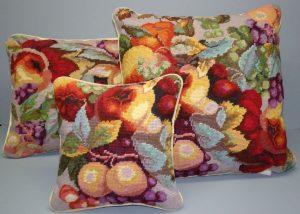 Needlepoint in the United Kingdom is often referred to as "tapestry" or "canvaswork", that is, stitched by needlepoint on stiff open grid canvas mesh. When worked on fine weave canvas, it is also known as "Petitpoint". Our needlepoint designs are hand crafted with only a basic and simple "tent stitch", and rely on colour changes in the wool yarn to construct the pattern.
Our regular decorative needlepoint pillows have 132 stitches per square inch. Our Petit Point pillows have an incredible 576 stitches per square inch for even greater detail. Several of our pillows are a mix stitch of regular grosse point Needlepoint and Petit Point stitch. They are indeed a beautiful expression of hand artistry and timeless beauty.
This design is sure to add cheer to any room. The various fruits form a delightful combination of shapes and colours. And the play of light gives it an artistic expression. We include a closeup version to demonstrate the workmanship as well as the colours.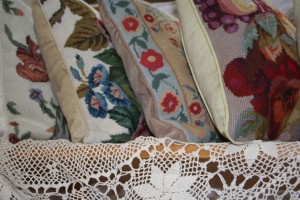 Made of 100% Wool yarn.

Yarn dyed for colour fast.

Velveteen cotton backing:  Cream.

Zipper closure hidden mid way.

Oblong size :  Oblong :  12″x16″

Cover only.

All measurements are approximate with a variance of 5-10% deviance.

Dry clean.
Approximate prices in other currencies:  US$ 39.61 / UK pound sterling 27.73 / Euro 36.13 (Jan. 2016)