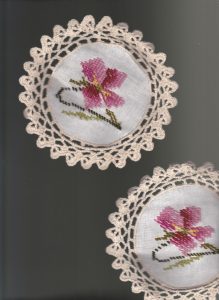 The use of heavy wool threads, this design has a layered or textural look. It also means requiring a slightly stiffer or heavier fabric than cross-stitch, as it needs to hold up to the weight of the threads and the tension of the stitches. While it can be worked on cotton evenweaves and linens, there is a fabric devoted to the technique. Called Hardanger fabric, this 100% cotton 22-ct. evenweave is available in a warm creamy Ecru colour.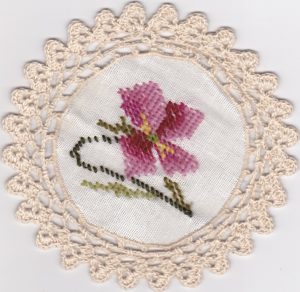 It is All in the Details, a crocheted lace trim with picots in rose buds design to compliment the gros point floral.
 
100% Wool thread Gros Point stitching.

Creamy Ecru colour 22 ct Cotton evenweave canvas.

Tea Coaster size :  6″ diameter.

Crocheted Lace trim Cotton thread.

Lace trim Picoted Rose Buds design.

All measurements are approximate with a variance of 5-10% deviance.

Precise measurements can be available upon request.

NO Dryer.