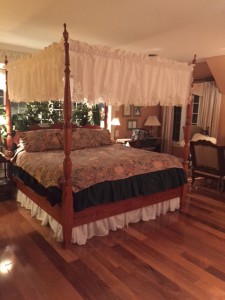 Variations on this original theme range from imposing solid wood canopy beds with curtains draped across the rectangular frame to stunning wrought iron beds with luminous, breezy curtains. We offer an elegant valance that will enhance the look of a luxurious canopy bed.
Our Elite Battenburg Lace is available in 2 styles to choose from, best suited to create a romantic ambiance:
Window Pane style:  Ecru colour still available.
    
Lace Top style:  White only.
Madeira Cut Work Embroidery piano scarf. Simply add a rod pocket.  White Linen.
Size required for Queen size or King size bed:
90″(w)
For our featured bed:  8 pieces of Lace top valance for a luxurious king size bed.
larger size : 90″ (w)
Rod pocket is for both Battenburg Lace styles
Generous rod pockets :  1.5″ and 2.5″.
Crisp white or Vintage Ecru.
Made from pure cotton, or Linen.
Satin stitched flowers as accents.
Hand wash.  NO dryer..
Please inquire about quantity discount.
Approximate prices in other currencies:  US$ 47.45 / UK pound sterling 33.17 / Euro 43.89. size: 90″x25″    (Jan. 2016)