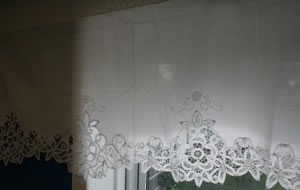 Elegant handcrafted valances, Curtain sets & Shower Curtain
Valances for any size of windows.
Beautiful hand made Battenburg Lace with hand embroidered details in 2 sizes of valance. Available in Ecru or White colours.
Shower Curtain
The Elite Battenburg Lace product line is so beautifully designed that even the Shower Curtain is elaborate enough to cover a street window.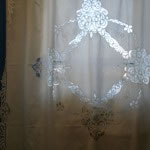 Full Curtain set
The full set is complete with a valance, 2 panels and 2 tie backs. Available in 2 styles (Classic & Peony).  Inquire about Ecru Cotton.
Classic #388 : 2 sizes :   Large size 90″(w) x 86″(l)    Mid size  60″(w) x 63″(l)         Peony : 70″(w) x 84″(l)
Peony #PF338 : 1 size :  70″(w) x 84″(l)   White Cotton only.
Pure White Cotton Battenburg Lace with peony lace flowers in a Curtain set will set the mood for all things beautiful in life.