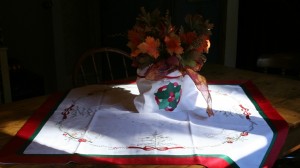 The Appliqué stitches of this Holly Wreath Gift Bag are so beautifully crafted that only an expert embroiderer can master (an incredible 18-20 stitches per inch.) With a wide bottomed gusset, It makes an attractive holder for the Poinsettia plant or any evergreen. The opening is well finished with a red binding trim, folded over for a colourful edge. Great for Christmas, or just as a whimsical decoration!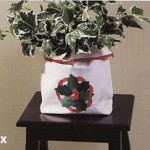 Or, simply use as an attractive gift bag. With a wide bottomed gusset, It can even hold a bottle of Wine.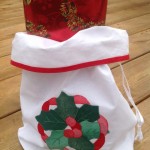 Holiday Special :  Buy 6 and get an extra 1 for FREE!
Made of pure crisp white cotton.
Applique hand stitched 18-20 per inch.
Size : 11″(w) x 11.5″(h)
Gusset :  3.5″ expansion.
Finishing with red binding trimming.
Colour fast fabric.
All sizes are approximate measurements with a variation of 5-10% deviance.
Machine Wash. Natural Air Dry.