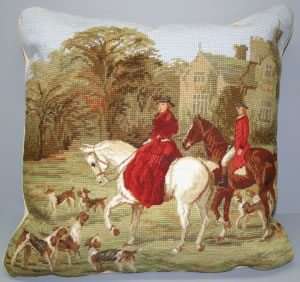 It is inspiring to read about a 200 year old distinguished sport : The Hunting of the Fox upheld in Courtland, Alabama. Victoria Magazine never ceases to amaze us with interesting articles- reported in November/December 2012 issue. www.victoriamag.com

This amazing hand-stitched Woolen Needlepoint Cushion Cover pays tribute to an honourable sport of the Court.  Preserving tradition and reenacting pieces of history bring dignity and meaning to human existence, amidst this fast paced modern world. 
The picturesque scenery is a depiction of a tapestry.  This 16″ cushion cover is skilfully hand stitched in Gross Point of 100% Wool.  The foreground of figures and animals are incredibly hand stitched in Petit Point, hence, the 3-D dimensional effect.  An amazing find at very affordable price.  Limited availability.
Approximate prices in other currencies:  US$ 165.40 / UK pound sterling 115.92 / Euro 151.92 .    (Jan. 2016)