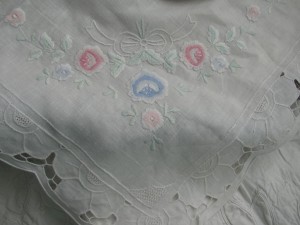 Linen Doilies
We bring you these pure linen cutwork squares with white work embroidered roses or budding blooms as accent. It is

All in the Details
embroidered rose buds provide a delicate touch to the prominent cut out roses. The balance is subtle for a tranquil and peaceful setting. As always,there are more than one to choose from.
Rose Quartz and Serenity in a Rose Bouquet with Cutwork details. Available in 24″ square. 100% Linen.
Limited quantity.
Classic White on White Cutwork and Whitework embroider rose buds. Available in 18″ square. 100% Linen.
Limited quantity.
White Cutwork and Whitework embroidered rose buds with a hint of delicate and subtle colours. Available in 24″ square. 100% Linen.
Limited quantity.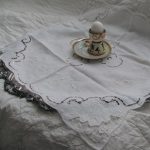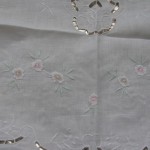 Schweitzer Linen doilies are designed to create charming focal points throughout your home. Available in the finest fabrics, including pure linen woven in Italy and wispy 100% cotton batiste, these very special imports feature hand craftsmanship at its best. See incredibly fine handcrafted bobbin lace, handworked scallops and eyelet detail, hand crocheted Venice lace, festive hand-embroidered holly and merry holiday trees. Schweitzer Linen has all that and more, in various shapes and sizes for end tables, bed tables, sideboards, dressers, wherever you want to add a touch of luxury.
Made of pure 100% Linen.
Embroidered rose buds embroidery.
Cutwork embroidery on all 4 corners and along edges.
Rose Quartz (Pink) and Serenity (Blue) Rose Bouquet :  24″x24″ square.
White-on-White Rose Buds :  18″x18″ square.
White with hint of colours : 24″x24″ square.
All sizes are approximate measurements with a variation of 5-10% deviance.
NO Dryer.