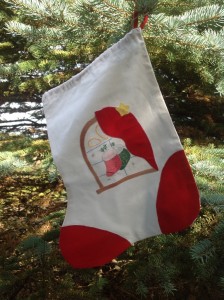 Cheerful and vintage! The Appliqué stitches are beautifully crafted that only an expert embroiderer can master. This stocking features an incredible 18-20 stitches per inch. Colourful fabric appliqued onto a pure white cotton stocking. A treasure for an amazing price.
A close up view to illustrate the skill of the applique stitches.
Eclectic Mix: add our vintage look of applique stockings to My Blessed Life's red wooden sled, and poinsettias will give this mantel timeless style. We offer the element of the unexpected, a unique and handmade elegance.
We bring you this unusual design of stockings on stocking. A creative and playful "window" to holiday cheers. As embellishment, the window features hand embroidered stitches such as Vine & Stem & Chain, etc. These stitches are so skilfully done that no machine can imitate the effect.
Holiday special: Buy 5 and get one extra for FREE!  On sale now!

Made of pure crisp white cotton.
Applique hand stitched 18-20 per inch.
Size : 9.5″(w) x 11″(h)
Appliqued Window :  4″(w) x 4.5″(h).
Colour fast fabric.
All sizes are approximate measurements with a variation of 5-10% deviance.
No Dryer