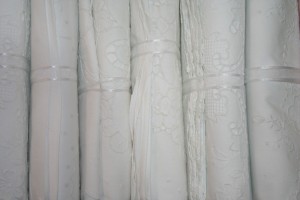 Michel Serres best to describe the pleasures of the five senses as "waking in a bath of skin and bed…the sheets an extension of skin, the body filling fold and soft pocket" The Lace And Linens Co. offers the magic of luxurious and vintage style embroidered & lace trimmed bed sheets and pillow cases for today's budget-wise economy. We offer pure white & Cotton bedding of premium quality intended to last decades. Mostly Queen size remains available.
Elite Battenburg Lace premium quality cotton sheet sets
The Crown Jewel of our Bedsheet collection is this Elite Battenburg Lace 4-pieces sheet set, complete with elaborate hand embroidered & full lace-edged top sheet, with matching pillow cases; fitted (regular). Available in 4 colours. On sale now (3 colours) at an incredible value!
Pillow Cases (close-up image) included…exquisite hand embroidery details add value
Wedding Bell Cotton 3-pieces sheet set
Wedding Bell depicts Cotton rich 3-pieces sheet set delicately accented with sky Blue colour or Blush Pink colour and a Batten Tape Lace full lace edge. Well designed & well priced.
Petits Fleurs Cotton 3-pieces sheet set
Petit Fleur depicts Cotton rich 3-pieces sheet set with little Pink & Blue flowers and a Batten Tape Lace full lace edge.
Hand Crocheted Lace edged premium Cotton 3-pieces sheet set
Hand Crocheted Lace edging has always been a treasure find in pure white Cotton sheet. We offer 2 different versions to suit your budget…without compromising design & expert arts work. Crochet & Daisies: Fine Crochet Medallion
Satin Stitched Roses premium Cotton 3-pieces sheet set
The subtle beauty of handmade Satin Stitched Roses on pure white natural fibre Cotton is a delight to wake up in the morning. Queen size top sheet with hand hemstitched edging and Oxford Cases or shams. Note the fine finishing details of expert hand hem-stitched border with mitred corners.
Madeira Embroidered Morning Glory Lace 3-pieces cotton sheet set
Imagine waking up in the morning with pleasurable senses: your body caressed by luxurious cotton, the smell of fresh laundered cotton, and seeing the incredible beauty of needle art revered in Madeira, Portugal. Hand made Madeira Embroidered Morning Glory with expert finishing such as mitred corners, Broderie Anglais eyelets is a collaboration of history, fine art, and creativity; like being a part of the elite ruling class of Europe. This 3-pieces sheet set will bring the magic to start your day!
Cutwork Tulips 3-pieces sheet set
Cut work Tulips feature a more contemporary design, white natural fibre quality Cotton sheet set- only Queen size remains available. Limited quantity
Crisp White Cotton sheets
Blends well with a pure and simple white layout. Or can adapt with a bright and vibrant background; white doesn't have to be "plain", it can be bold too!
Soft natural fibre 100% cotton.
Crisp white.
Top or flat sheet : Queen size : 90″ x 108″.
Pillow case:  Queen size
Extra piece of same or similar style pillow case separately available.
Measurement is approximate with a variance of 5-10% deviance.