Needlepoint in the United Kingdom is often referred to as "tapestry" or "canvaswork", that is, stitched by needlepoint on stiff open grid canvas mesh. When worked on fine weave canvas, it is also known as "Petitpoint". All needlepoint designs we offer are hand crafted with only a basic and simple "tent stitch", and rely on colour changes in the wool yarn to construct the pattern.
A Wreath of Christmas Roses  in Grosse Pointe. Hand stitched needlepoint in New Zealand wool. Velveteen backing with zipper. 16″square. Cover only. It is All in the Details, to add interest to the design, a border edge of smaller Red Christmas Roses hand stitched all along the cushion.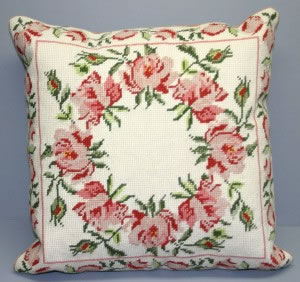 Made of 100% Wool yarn.

Yarn dyed for colour fast.

Velveteen cotton backing:  Cream.

Zipper closure hidden mid way.

Square Size : 16″ x 16″

Cover only.

All measurements are approximate with a variance of 5-10% deviance.

Dry clean.