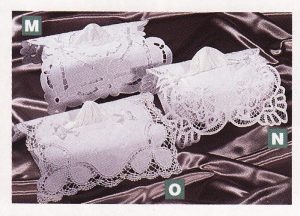 Exquisite white cotton Battenburg Lace cascades from this tissue box cover. The beautifully handmade Battenburg Lace will bring elegance to any powder room or guest room. A white 100% Cotton underlining has an elastic edge that covers a standard or large rectangular tissue box.
The Battenburg Lace is expertly crafted and complete with details of lace brides, lace bars, and lace spiders. The lace is then fashioned into a peony flower design ending with lace sepals at the base in a tip, decorating each one of the 4 corners.
It is All in the Details, 2 Satin ribbon bows with crafted Satin ribbon rosettes-centres decorate each end of the lace opening. In addition, 2 lace rings adorn the base of each flower. A close up version.

Made of 100% pure cotton.

Choose snow White or warm Ecru colour.

Size:  12″x12.75″

Tissue box size: Standard or large: 5.5″(w) x 10″(l) x 4.75″(h).

Measurements are approximate with a variance of 5-10% deviance.

NO dryer.