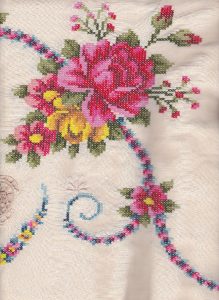 Punto in Aria, this rare and beautiful type of needle lace is, strictly speaking, Stitches in Air. Some finest work of Venetian Lace boasts of six thousand buttonhole stitches in one square inch, an amazing accomplishment as an embroiderer.
Close up images can best illustrate embroidery workmanship at perfection! Perfect crosses perfectly crossed!
We create this unique combination of Cross Stitched embroidered Roses with exquisite Venetian Lace of Punto in Aria. One enhance the other, the vibrant & colourful Cross-stitched embroidery bring a cheerful appeal to classic lace. Alternately, the otherwise very expensive Venice lace as accent insertion is now an affordable luxury. Limited quantities. Purchase with matching napkins or without.
Made of pure Cotton.

Vintage Ecru colour.

Cross stitched hand embroidered roses & flowers.

Hand stitched needle work Venetian Lace insertions.

Dinner napkins: 17″ folded, hand hemmed, Cross stitched border & embroidered 1-corner.

Width of tablecloths : 64″

Lengths :  102″ Oval shaped

Measurements are approximate with a variance of 5-10% deviance.

Choose with Napkins or without napkins.

NO Dryer.