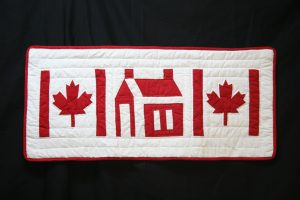 Special…This Canada Day…
Enjoy  20% discount      CAN$ 19.95   
Click on each image 2 times for closer look.
Regular price:  CAN$ 24.95
Celebrate this Canada Day! Our Home and Native Land!

Red and White hand Quilted Maple Leaf…and "Our Home" : A Red and White School House traditional design.  Hand quilting on Red House and Home. Hand quilting contour around Maple Leaf.

It is All in the Details, hand quilted Maple Leaf on the Red School House roof top adds a fine finishing touch!
A Table Runner for easy decorating…or as a Window Valance with sewn-on rod pocket!
100% Cotton.

Polyester filling

Red on White cotton fabric

Quilted Maple Leaf on rooftop

Rod Pocket 3″ with contour hand sewing.

Size:  16.5″ (d) x 36″ (w)

Very limited quantity.

Dry Clean.