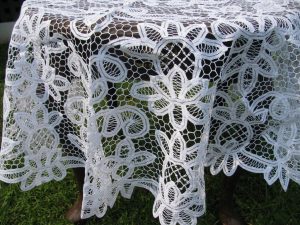 This beautifully made Allover Battenburg Lace tablecloth in natural fibre quality cotton is available in 5 sizes
As Tablecloth
Solid Battenburg Lace can instantly transform a simple home to an elegant setting. It is All in the Details close up illustrates well made brides and bars.
As Bedside Table
Solid Battenburg Lace square tablecloth can magically turn an ordinary bedside table into an elegant showpiece.
Hand made Battenburg Lace.

Made of premium quality cotton,

Choose Pure White colour or Creamy Ecru colour.




Round Sizes: White :  36″ diameter.

Round size: Ecru:  36″ diameter.

All measurements are approximate with a variance of 5-10% deviance.

Precise measurements can be available upon request.

Limited quantities while inventory lasts.

NO Dryer.